{"id":4795203485835,"title":"Toro Mini 8 Rotor Sprinkler","handle":"mini8-4p","description":"\u003cp\u003eToro Mini 8 Rotor Sprinkler. \u003cspan data-mce-fragment=\"1\"\u003e \u003c\/span\u003e\u003c\/p\u003e\n\u003cp\u003e\u003cspan\u003eAdd Mini 8 to your fixed spray and rotor offering and have all the tools you need to irrigate residential and commercial landscapes most efficiently and effectively.\u003c\/span\u003e\u003c\/p\u003e\n\u003cul\u003e\n\u003cli\u003e15mm (1\/2") gear-drive rotor\u003cbr\u003e\n\u003c\/li\u003e\n\u003cli\u003eThe perfect in-between fit: the radius fills the gap between spray heads and full-sized rotors\u003cbr\u003e\n\u003c\/li\u003e\n\u003cli\u003eArc on top easily shows arc indication between 40˚ and 360˚\u003cbr\u003e\n\u003c\/li\u003e\n\u003cli\u003eRatcheting riser\u003cbr\u003e\n\u003c\/li\u003e\n\u003cli\u003eInlet 15mm female threaded\u003cbr\u003e\n\u003c\/li\u003e\n\u003cli\u003e95mm (4\u003cspan data-mce-fragment=\"1\"\u003e"\u003c\/span\u003e) pop-up height\u003cbr\u003e\n\u003c\/li\u003e\n\u003c\/ul\u003e\n\u003cp\u003eSpecs:\u003c\/p\u003e\n\u003cul\u003e\n\u003cul\u003e\n\u003cli class=\"ql-indent-1\"\u003e\u003cspan data-preserver-spaces=\"true\"\u003eNozzles #0.75 - #3.0\u003c\/span\u003e\u003c\/li\u003e\n\u003cli class=\"ql-indent-1\"\u003e\u003cspan data-preserver-spaces=\"true\"\u003eRadius 6.10 - 10.70m\u003c\/span\u003e\u003c\/li\u003e\n\u003cli class=\"ql-indent-1\"\u003e\u003cspan data-preserver-spaces=\"true\"\u003eFlow 3-12.9 l\/m\u003c\/span\u003e\u003c\/li\u003e\n\u003cli class=\"ql-indent-1\"\u003e\u003cspan data-preserver-spaces=\"true\"\u003eTrajectory 25˚\u003c\/span\u003e\u003c\/li\u003e\n\u003cli class=\"ql-indent-1\"\u003e\u003cspan data-preserver-spaces=\"true\"\u003ePressure 2.0-4.1 bar.\u003c\/span\u003e\u003c\/li\u003e\n\u003c\/ul\u003e\n\u003c\/ul\u003e\n\u003c!-- split --\u003e \u003c!-- TABS --\u003e\n\u003ch5\u003eFeatures\u003c\/h5\u003e\n\u003cp\u003e\u003cimg data-mce-fragment=\"1\" height=\"139\" width=\"163\" src=\"https:\/\/cdn2.toro.com\/en\/-\/media\/Toro-Media-Sharepoint-Libraries\/_Images\/ProductCatalog594X694\/TopArcIndicationtop-arc,-d-,jpg.ashx?mw=400\u0026amp;mh=342\u0026amp;hash=1F883F8B4EED2A250793BD609211EEA1B34324D0\" alt=\"View Larger\" data-mce-src=\"https:\/\/cdn2.toro.com\/en\/-\/media\/Toro-Media-Sharepoint-Libraries\/_Images\/ProductCatalog594X694\/TopArcIndicationtop-arc,-d-,jpg.ashx?mw=400\u0026amp;mh=342\u0026amp;hash=1F883F8B4EED2A250793BD609211EEA1B34324D0\"\u003e\u003cbr data-mce-fragment=\"1\"\u003eTop Arc Indication\u003cbr data-mce-fragment=\"1\"\u003eEnsures easy adjustments from 40° to 360° with visual feedback of arc change by reading the scale.\u003cbr data-mce-fragment=\"1\"\u003e\u003cbr data-mce-fragment=\"1\"\u003e\u003cimg data-mce-fragment=\"1\" height=\"140\" width=\"164\" src=\"https:\/\/cdn2.toro.com\/en\/-\/media\/Toro-Media-Sharepoint-Libraries\/_Images\/ProductCatalog594X694\/FiveInterchangeableNozzlesmini8-nozzletree,-d-,jpg.ashx?mw=400\u0026amp;mh=342\u0026amp;hash=D663342DBCEEE4077F8FF72A8590C110E431C341\" alt=\"View Larger\" data-mce-src=\"https:\/\/cdn2.toro.com\/en\/-\/media\/Toro-Media-Sharepoint-Libraries\/_Images\/ProductCatalog594X694\/FiveInterchangeableNozzlesmini8-nozzletree,-d-,jpg.ashx?mw=400\u0026amp;mh=342\u0026amp;hash=D663342DBCEEE4077F8FF72A8590C110E431C341\"\u003e\u003cbr data-mce-fragment=\"1\"\u003eFive Interchangeable Nozzles\u003cbr data-mce-fragment=\"1\"\u003eTo cover varying flow and radius requirements (comes pre-installed with a 1.5 nozzle).\u003cbr data-mce-fragment=\"1\"\u003e\u003cbr data-mce-fragment=\"1\"\u003e\u003cimg data-mce-fragment=\"1\" height=\"155\" width=\"182\" src=\"https:\/\/cdn2.toro.com\/en\/-\/media\/Toro-Media-Sharepoint-Libraries\/_Images\/ProductCatalog594X694\/SteelRadiusAdjustmentScrewmini8-Stainless-Steel-Radius-adjustment-screw,-d-,jpg.ashx?mw=400\u0026amp;mh=342\u0026amp;hash=8A2C5A7F730A937CED451F568D51483646DA7143\" alt=\"View Larger\" data-mce-src=\"https:\/\/cdn2.toro.com\/en\/-\/media\/Toro-Media-Sharepoint-Libraries\/_Images\/ProductCatalog594X694\/SteelRadiusAdjustmentScrewmini8-Stainless-Steel-Radius-adjustment-screw,-d-,jpg.ashx?mw=400\u0026amp;mh=342\u0026amp;hash=8A2C5A7F730A937CED451F568D51483646DA7143\"\u003e\u003cbr data-mce-fragment=\"1\"\u003eStainless Steel Radius Adjustment Screw\u003cbr data-mce-fragment=\"1\"\u003eAllows up to 25% reduction.\u003cbr data-mce-fragment=\"1\"\u003e\u003cbr data-mce-fragment=\"1\"\u003e\u003cimg data-mce-fragment=\"1\" src=\"https:\/\/cdn2.toro.com\/en\/-\/media\/Toro-Media-Sharepoint-Libraries\/_Images\/ProductCatalog594X694\/PressureActivatedSealmini8-pressure-activated-seal,-d-,jpg.ashx?mw=400\u0026amp;mh=342\u0026amp;hash=FC1E3671532A1C197F3B7318AB310C332D187FBF\" alt=\"View Larger\" width=\"192\" height=\"164\" data-mce-src=\"https:\/\/cdn2.toro.com\/en\/-\/media\/Toro-Media-Sharepoint-Libraries\/_Images\/ProductCatalog594X694\/PressureActivatedSealmini8-pressure-activated-seal,-d-,jpg.ashx?mw=400\u0026amp;mh=342\u0026amp;hash=FC1E3671532A1C197F3B7318AB310C332D187FBF\"\u003e\u003cbr data-mce-fragment=\"1\"\u003ePressure Activated Seal\u003cbr data-mce-fragment=\"1\"\u003eMinimizes flow-by during pop-up and keeps debris away from stem during retraction.\u003cbr data-mce-fragment=\"1\"\u003e\u003cbr data-mce-fragment=\"1\"\u003e\u003cimg data-mce-fragment=\"1\" src=\"https:\/\/cdn2.toro.com\/en\/-\/media\/Images\/Toro\/product-details\/Professional-Contractor\/Mini8Partandfullcircleinone.ashx?mw=700\u0026amp;mh=599\u0026amp;hash=6D44E06C1ACE0B677001E9205F4E14B301933D68\" width=\"196\" height=\"169\" data-mce-src=\"https:\/\/cdn2.toro.com\/en\/-\/media\/Images\/Toro\/product-details\/Professional-Contractor\/Mini8Partandfullcircleinone.ashx?mw=700\u0026amp;mh=599\u0026amp;hash=6D44E06C1ACE0B677001E9205F4E14B301933D68\"\u003e\u003cbr data-mce-fragment=\"1\"\u003ePart And Full Circle In One\u003cbr data-mce-fragment=\"1\"\u003eOffers convenience and reduces inventory requirements.\u003c\/p\u003e\n\u003ch5\u003eSpecifications\u003c\/h5\u003e\n\u003cp\u003e \u003c\/p\u003e\n\u003cul class=\"list-group spec-listing clearfix\"\u003e\n\u003cli class=\"list-group-item col-sm-6\"\u003e\n\u003cstrong\u003eRadius\u003c\/strong\u003e\u003cbr\u003e\u003cspan data-mce-fragment=\"1\"\u003e6.1 - 10.7 m (\u003c\/span\u003e20'-35') \u003c\/li\u003e\n\u003cli class=\"list-group-item col-sm-6\"\u003e\n\u003cstrong\u003eFlow\u003c\/strong\u003e\u003cbr\u003e3 - 12.9 LPM (0.8-3.40 GPM) \u003c\/li\u003e\n\u003cli class=\"list-group-item col-sm-6\"\u003e\n\u003cstrong\u003eArc\u003c\/strong\u003e\u003cbr\u003eFull Circle; Part-circle Adjustable; Part\/Full circle in One\u003c\/li\u003e\n\u003cli class=\"list-group-item col-sm-6\"\u003e\n\u003cstrong\u003eRecommended Operating Pressure\u003c\/strong\u003e\u003cbr\u003e30-60 PSI (2.1 - 4.1 Bar)\u003c\/li\u003e\n\u003cli class=\"list-group-item col-sm-6\"\u003e\n\u003cstrong\u003eInlet\u003c\/strong\u003e\u003cbr\u003e15 mm (1\/2\") \u003c\/li\u003e\n\u003cli class=\"list-group-item col-sm-6\"\u003e\n\u003cstrong\u003ePop-Up Height\u003c\/strong\u003e\u003cbr\u003e\u003cspan data-mce-fragment=\"1\"\u003e95 mm (\u003c\/span\u003e3 3\/4\")\u003c\/li\u003e\n\u003cli class=\"list-group-item col-sm-6\"\u003e\n\u003cstrong\u003eBody Height\u003c\/strong\u003e\u003cbr\u003e150 mm (6\") \u003c\/li\u003e\n\u003cli class=\"list-group-item col-sm-6\"\u003e\n\u003cstrong\u003eCap Diameter\u003c\/strong\u003e\u003cbr\u003e57 mm (2 1\/4\")\u003c\/li\u003e\n\u003cli class=\"list-group-item col-sm-6\"\u003e\n\u003cstrong\u003eExposed Diameter\u003c\/strong\u003e\u003cbr\u003e45 mm (1 3\/4\") \u003c\/li\u003e\n\u003c\/ul\u003e\n\u003ch5\u003eDocumentations\u003c\/h5\u003e\n\u003cp\u003e\u003ca href=\"https:\/\/cdn.shopify.com\/s\/files\/1\/0380\/8365\/7867\/files\/MINI-8_Series.pdf?v=1589852298\" target=\"_blank\"\u003e\u003cspan data-mce-fragment=\"1\"\u003e\u003cimg data-mce-fragment=\"1\" alt=\"\" src=\"https:\/\/cdn.shopify.com\/s\/files\/1\/0380\/8365\/7867\/files\/PDF_logo_32x32.png?v=1589769759\" data-mce-src=\"https:\/\/cdn.shopify.com\/s\/files\/1\/0380\/8365\/7867\/files\/PDF_logo_32x32.png?v=1589769759\"\u003e Toro Mini 8 Rotor Cell Sheet Metric\u003c\/span\u003e\u003c\/a\u003e \u003c\/p\u003e\n\u003cp\u003e\u003ca href=\"https:\/\/cdn2.toro.com\/en\/-\/media\/Files\/Toro\/professional-contractor\/Rotors\/Mini-8-Series\/Mini-8-Uusers-Guide.ashx\" data-mce-href=\"https:\/\/cdn2.toro.com\/en\/-\/media\/Files\/Toro\/professional-contractor\/Rotors\/Mini-8-Series\/Mini-8-Uusers-Guide.ashx\"\u003e\u003cspan data-mce-fragment=\"1\"\u003e\u003cimg data-mce-fragment=\"1\" src=\"https:\/\/cdn.shopify.com\/s\/files\/1\/0380\/8365\/7867\/files\/PDF_logo_32x32.png?v=1589769759\" alt=\"\" data-mce-src=\"https:\/\/cdn.shopify.com\/s\/files\/1\/0380\/8365\/7867\/files\/PDF_logo_32x32.png?v=1589769759\"\u003e Toro Mini 8 Series User's Guide\u003c\/span\u003e\u003cspan\u003e \u003c\/span\u003e\u003c\/a\u003e\u003c\/p\u003e\n\u003cp\u003e\u003ca href=\"https:\/\/cdn2.toro.com\/en\/-\/media\/Files\/Toro\/professional-contractor\/Rotors\/Mini-8-Series\/Mini-8-single-stream-specs.ashx\"\u003e\u003cspan\u003e\u003cimg data-mce-fragment=\"1\" src=\"https:\/\/cdn.shopify.com\/s\/files\/1\/0380\/8365\/7867\/files\/PDF_logo_32x32.png?v=1589769759\" alt=\"\" data-mce-src=\"https:\/\/cdn.shopify.com\/s\/files\/1\/0380\/8365\/7867\/files\/PDF_logo_32x32.png?v=1589769759\"\u003e Toro Mini 8 Series Single Stream Specs \u003c\/span\u003e\u003c\/a\u003e\u003c\/p\u003e\n\u003cp\u003e\u003ca href=\"https:\/\/cdn2.toro.com\/en\/-\/media\/Files\/Toro\/professional-contractor\/Rotors\/Mini-8-Series\/Mini-8-ss-revb.ashx\" data-mce-href=\"https:\/\/cdn2.toro.com\/en\/-\/media\/Files\/Toro\/professional-contractor\/Rotors\/Mini-8-Series\/Mini-8-ss-revb.ashx\"\u003e\u003cspan\u003e\u003cimg data-mce-fragment=\"1\" src=\"https:\/\/cdn.shopify.com\/s\/files\/1\/0380\/8365\/7867\/files\/PDF_logo_32x32.png?v=1589769759\" alt=\"\" data-mce-src=\"https:\/\/cdn.shopify.com\/s\/files\/1\/0380\/8365\/7867\/files\/PDF_logo_32x32.png?v=1589769759\"\u003e Toro Mini 8 Rotor Cell Sheet Imperial\u003c\/span\u003e\u003c\/a\u003e\u003c\/p\u003e\n\u003ch5\u003eVideos\u003c\/h5\u003e\n\u003cp\u003e \u003ciframe width=\"560\" height=\"315\" src=\"https:\/\/www.youtube.com\/embed\/DAexVbVCWhs\" title=\"YouTube video player\" frameborder=\"0\" allow=\"accelerometer; autoplay; clipboard-write; encrypted-media; gyroscope; picture-in-picture\" allowfullscreen=\"\"\u003e\u003c\/iframe\u003e\u003c\/p\u003e\n\u003ch5\u003eCompatible with\u003c\/h5\u003e\n\u003cp\u003e\u003cstrong\u003eSwing Joints \u003cbr\u003e\u003c\/strong\u003eSwing joints are flexible pipe fittings used to attach sprinklers or rotors to an irrigation system. \u003cstrong\u003eThe Mini 8 is only combatable with 15mm threaded Swing Joints.\u003cbr\u003e\u003c\/strong\u003e\u003c\/p\u003e\n\u003cul\u003e\n\u003cli\u003e\n\u003ca href=\"https:\/\/shop.irrigation.co.nz\/collections\/swing-joints-accessories?_pos=1\u0026amp;_psq=swing\u0026amp;_ss=e\u0026amp;_v=1.0\" title=\"Toro 570 Check Valve\"\u003e\u003cstrong\u003eClick here\u003c\/strong\u003e\u003c\/a\u003e\u003cspan\u003e \u003c\/span\u003eto shop for Swing Joints\u003c\/li\u003e\n\u003c\/ul\u003e\n\u003cp\u003e\u003cstrong\u003eMini 8 Adjustment tool\u003c\/strong\u003e\u003cbr\u003eUsed to make changes to your Mini 8 sprinkler\u003cbr\u003e\u003c\/p\u003e\n\u003cul\u003e\n\u003cli\u003e\n\u003ca title=\"Toro 570 Check Valve\" href=\"https:\/\/shop.irrigation.co.nz\/products\/mini-8-adjustment-tool\"\u003e \u003cstrong\u003eClick here\u003c\/strong\u003e\u003c\/a\u003e\u003cspan\u003e \u003c\/span\u003eto shop for the Mini 8 adjustment tool.\u003c\/li\u003e\n\u003c\/ul\u003e\n\u003cp\u003e\u003cstrong\u003eMini 8 Check Valve \u003cbr\u003e\u003c\/strong\u003eThe Mini 8 check valve prevents irrigation lines from being emptied after the sprinkler system has stopped running.\u003cstrong\u003e\u003cbr\u003e\u003c\/strong\u003e\u003c\/p\u003e\n\u003cul\u003e\n\u003cli\u003e\n\u003ca href=\"https:\/\/7lwqjt0nizekq2ax-38083657867.shopifypreview.com\/products_preview?preview_key=fdb839bb7c68e7c4fa3b9610ad8757fe\" title=\"Toro 570 Check Valve\"\u003e\u003cstrong\u003eClick here\u003c\/strong\u003e\u003c\/a\u003e\u003cspan\u003e \u003c\/span\u003eto shop for the Mini 8 Check Valve.\u003c\/li\u003e\n\u003c\/ul\u003e\n\u003cp\u003e\u003cspan\u003e\u003cstrong\u003eSpare Nozzle Rack for Mini 8\u003c\/strong\u003e\u003cbr\u003e\u003c\/span\u003eIncase of losses or breakages we also offer \u003cspan data-mce-fragment=\"1\"\u003eSpare Nozzle Rack for Mini 8\u003c\/span\u003e\u003c\/p\u003e\n\u003cul\u003e\n\u003cli\u003e\n\u003ca title=\"Toro 570 Check Valve\" href=\"https:\/\/7lwqjt0nizekq2ax-38083657867.shopifypreview.com\/products_preview?preview_key=c704870c1065a4a9a53b7c00e3610209\"\u003e\u003cstrong\u003eClick here\u003c\/strong\u003e\u003c\/a\u003e\u003cspan\u003e \u003c\/span\u003eto shop for the a \u003cspan data-mce-fragment=\"1\"\u003eSpare Nozzle Rack for Mini 8\u003c\/span\u003e\n\u003c\/li\u003e\n\u003c\/ul\u003e\n\u003ch5\u003eReviews\u003c\/h5\u003e\n\u003cp\u003e \u003c\/p\u003e\n\u003c!-- \/TABS --\u003e","published_at":"2020-04-16T14:36:10+12:00","created_at":"2020-04-16T14:36:10+12:00","vendor":"Toro","type":"Rotor Sprinkler","tags":["Rotor Sprinklers"],"price":4040,"price_min":4040,"price_max":4040,"available":true,"price_varies":false,"compare_at_price":null,"compare_at_price_min":0,"compare_at_price_max":0,"compare_at_price_varies":false,"variants":[{"id":40400086532235,"title":"Toro Mini 8 Rotor Sprinkler","option1":"Toro Mini 8 Rotor Sprinkler","option2":null,"option3":null,"sku":"MINI8-4P","requires_shipping":true,"taxable":true,"featured_image":null,"available":true,"name":"Toro Mini 8 Rotor Sprinkler - Toro Mini 8 Rotor Sprinkler","public_title":"Toro Mini 8 Rotor Sprinkler","options":["Toro Mini 8 Rotor Sprinkler"],"price":4040,"weight":0,"compare_at_price":null,"inventory_management":null,"barcode":null,"requires_selling_plan":false,"selling_plan_allocations":[]}],"images":["\/\/cdn.shopify.com\/s\/files\/1\/0380\/8365\/7867\/products\/irrigatore-mini8-4p-001.jpg?v=1587091631"],"featured_image":"\/\/cdn.shopify.com\/s\/files\/1\/0380\/8365\/7867\/products\/irrigatore-mini8-4p-001.jpg?v=1587091631","options":["Title"],"media":[{"alt":null,"id":7442430722187,"position":1,"preview_image":{"aspect_ratio":1.0,"height":620,"width":620,"src":"https:\/\/cdn.shopify.com\/s\/files\/1\/0380\/8365\/7867\/products\/irrigatore-mini8-4p-001.jpg?v=1587091631"},"aspect_ratio":1.0,"height":620,"media_type":"image","src":"https:\/\/cdn.shopify.com\/s\/files\/1\/0380\/8365\/7867\/products\/irrigatore-mini8-4p-001.jpg?v=1587091631","width":620}],"requires_selling_plan":false,"selling_plan_groups":[],"content":"\u003cp\u003eToro Mini 8 Rotor Sprinkler. \u003cspan data-mce-fragment=\"1\"\u003e \u003c\/span\u003e\u003c\/p\u003e\n\u003cp\u003e\u003cspan\u003eAdd Mini 8 to your fixed spray and rotor offering and have all the tools you need to irrigate residential and commercial landscapes most efficiently and effectively.\u003c\/span\u003e\u003c\/p\u003e\n\u003cul\u003e\n\u003cli\u003e15mm (1\/2") gear-drive rotor\u003cbr\u003e\n\u003c\/li\u003e\n\u003cli\u003eThe perfect in-between fit: the radius fills the gap between spray heads and full-sized rotors\u003cbr\u003e\n\u003c\/li\u003e\n\u003cli\u003eArc on top easily shows arc indication between 40˚ and 360˚\u003cbr\u003e\n\u003c\/li\u003e\n\u003cli\u003eRatcheting riser\u003cbr\u003e\n\u003c\/li\u003e\n\u003cli\u003eInlet 15mm female threaded\u003cbr\u003e\n\u003c\/li\u003e\n\u003cli\u003e95mm (4\u003cspan data-mce-fragment=\"1\"\u003e"\u003c\/span\u003e) pop-up height\u003cbr\u003e\n\u003c\/li\u003e\n\u003c\/ul\u003e\n\u003cp\u003eSpecs:\u003c\/p\u003e\n\u003cul\u003e\n\u003cul\u003e\n\u003cli class=\"ql-indent-1\"\u003e\u003cspan data-preserver-spaces=\"true\"\u003eNozzles #0.75 - #3.0\u003c\/span\u003e\u003c\/li\u003e\n\u003cli class=\"ql-indent-1\"\u003e\u003cspan data-preserver-spaces=\"true\"\u003eRadius 6.10 - 10.70m\u003c\/span\u003e\u003c\/li\u003e\n\u003cli class=\"ql-indent-1\"\u003e\u003cspan data-preserver-spaces=\"true\"\u003eFlow 3-12.9 l\/m\u003c\/span\u003e\u003c\/li\u003e\n\u003cli class=\"ql-indent-1\"\u003e\u003cspan data-preserver-spaces=\"true\"\u003eTrajectory 25˚\u003c\/span\u003e\u003c\/li\u003e\n\u003cli class=\"ql-indent-1\"\u003e\u003cspan data-preserver-spaces=\"true\"\u003ePressure 2.0-4.1 bar.\u003c\/span\u003e\u003c\/li\u003e\n\u003c\/ul\u003e\n\u003c\/ul\u003e\n\u003c!-- split --\u003e \u003c!-- TABS --\u003e\n\u003ch5\u003eFeatures\u003c\/h5\u003e\n\u003cp\u003e\u003cimg data-mce-fragment=\"1\" height=\"139\" width=\"163\" src=\"https:\/\/cdn2.toro.com\/en\/-\/media\/Toro-Media-Sharepoint-Libraries\/_Images\/ProductCatalog594X694\/TopArcIndicationtop-arc,-d-,jpg.ashx?mw=400\u0026amp;mh=342\u0026amp;hash=1F883F8B4EED2A250793BD609211EEA1B34324D0\" alt=\"View Larger\" data-mce-src=\"https:\/\/cdn2.toro.com\/en\/-\/media\/Toro-Media-Sharepoint-Libraries\/_Images\/ProductCatalog594X694\/TopArcIndicationtop-arc,-d-,jpg.ashx?mw=400\u0026amp;mh=342\u0026amp;hash=1F883F8B4EED2A250793BD609211EEA1B34324D0\"\u003e\u003cbr data-mce-fragment=\"1\"\u003eTop Arc Indication\u003cbr data-mce-fragment=\"1\"\u003eEnsures easy adjustments from 40° to 360° with visual feedback of arc change by reading the scale.\u003cbr data-mce-fragment=\"1\"\u003e\u003cbr data-mce-fragment=\"1\"\u003e\u003cimg data-mce-fragment=\"1\" height=\"140\" width=\"164\" src=\"https:\/\/cdn2.toro.com\/en\/-\/media\/Toro-Media-Sharepoint-Libraries\/_Images\/ProductCatalog594X694\/FiveInterchangeableNozzlesmini8-nozzletree,-d-,jpg.ashx?mw=400\u0026amp;mh=342\u0026amp;hash=D663342DBCEEE4077F8FF72A8590C110E431C341\" alt=\"View Larger\" data-mce-src=\"https:\/\/cdn2.toro.com\/en\/-\/media\/Toro-Media-Sharepoint-Libraries\/_Images\/ProductCatalog594X694\/FiveInterchangeableNozzlesmini8-nozzletree,-d-,jpg.ashx?mw=400\u0026amp;mh=342\u0026amp;hash=D663342DBCEEE4077F8FF72A8590C110E431C341\"\u003e\u003cbr data-mce-fragment=\"1\"\u003eFive Interchangeable Nozzles\u003cbr data-mce-fragment=\"1\"\u003eTo cover varying flow and radius requirements (comes pre-installed with a 1.5 nozzle).\u003cbr data-mce-fragment=\"1\"\u003e\u003cbr data-mce-fragment=\"1\"\u003e\u003cimg data-mce-fragment=\"1\" height=\"155\" width=\"182\" src=\"https:\/\/cdn2.toro.com\/en\/-\/media\/Toro-Media-Sharepoint-Libraries\/_Images\/ProductCatalog594X694\/SteelRadiusAdjustmentScrewmini8-Stainless-Steel-Radius-adjustment-screw,-d-,jpg.ashx?mw=400\u0026amp;mh=342\u0026amp;hash=8A2C5A7F730A937CED451F568D51483646DA7143\" alt=\"View Larger\" data-mce-src=\"https:\/\/cdn2.toro.com\/en\/-\/media\/Toro-Media-Sharepoint-Libraries\/_Images\/ProductCatalog594X694\/SteelRadiusAdjustmentScrewmini8-Stainless-Steel-Radius-adjustment-screw,-d-,jpg.ashx?mw=400\u0026amp;mh=342\u0026amp;hash=8A2C5A7F730A937CED451F568D51483646DA7143\"\u003e\u003cbr data-mce-fragment=\"1\"\u003eStainless Steel Radius Adjustment Screw\u003cbr data-mce-fragment=\"1\"\u003eAllows up to 25% reduction.\u003cbr data-mce-fragment=\"1\"\u003e\u003cbr data-mce-fragment=\"1\"\u003e\u003cimg data-mce-fragment=\"1\" src=\"https:\/\/cdn2.toro.com\/en\/-\/media\/Toro-Media-Sharepoint-Libraries\/_Images\/ProductCatalog594X694\/PressureActivatedSealmini8-pressure-activated-seal,-d-,jpg.ashx?mw=400\u0026amp;mh=342\u0026amp;hash=FC1E3671532A1C197F3B7318AB310C332D187FBF\" alt=\"View Larger\" width=\"192\" height=\"164\" data-mce-src=\"https:\/\/cdn2.toro.com\/en\/-\/media\/Toro-Media-Sharepoint-Libraries\/_Images\/ProductCatalog594X694\/PressureActivatedSealmini8-pressure-activated-seal,-d-,jpg.ashx?mw=400\u0026amp;mh=342\u0026amp;hash=FC1E3671532A1C197F3B7318AB310C332D187FBF\"\u003e\u003cbr data-mce-fragment=\"1\"\u003ePressure Activated Seal\u003cbr data-mce-fragment=\"1\"\u003eMinimizes flow-by during pop-up and keeps debris away from stem during retraction.\u003cbr data-mce-fragment=\"1\"\u003e\u003cbr data-mce-fragment=\"1\"\u003e\u003cimg data-mce-fragment=\"1\" src=\"https:\/\/cdn2.toro.com\/en\/-\/media\/Images\/Toro\/product-details\/Professional-Contractor\/Mini8Partandfullcircleinone.ashx?mw=700\u0026amp;mh=599\u0026amp;hash=6D44E06C1ACE0B677001E9205F4E14B301933D68\" width=\"196\" height=\"169\" data-mce-src=\"https:\/\/cdn2.toro.com\/en\/-\/media\/Images\/Toro\/product-details\/Professional-Contractor\/Mini8Partandfullcircleinone.ashx?mw=700\u0026amp;mh=599\u0026amp;hash=6D44E06C1ACE0B677001E9205F4E14B301933D68\"\u003e\u003cbr data-mce-fragment=\"1\"\u003ePart And Full Circle In One\u003cbr data-mce-fragment=\"1\"\u003eOffers convenience and reduces inventory requirements.\u003c\/p\u003e\n\u003ch5\u003eSpecifications\u003c\/h5\u003e\n\u003cp\u003e \u003c\/p\u003e\n\u003cul class=\"list-group spec-listing clearfix\"\u003e\n\u003cli class=\"list-group-item col-sm-6\"\u003e\n\u003cstrong\u003eRadius\u003c\/strong\u003e\u003cbr\u003e\u003cspan data-mce-fragment=\"1\"\u003e6.1 - 10.7 m (\u003c\/span\u003e20'-35') \u003c\/li\u003e\n\u003cli class=\"list-group-item col-sm-6\"\u003e\n\u003cstrong\u003eFlow\u003c\/strong\u003e\u003cbr\u003e3 - 12.9 LPM (0.8-3.40 GPM) \u003c\/li\u003e\n\u003cli class=\"list-group-item col-sm-6\"\u003e\n\u003cstrong\u003eArc\u003c\/strong\u003e\u003cbr\u003eFull Circle; Part-circle Adjustable; Part\/Full circle in One\u003c\/li\u003e\n\u003cli class=\"list-group-item col-sm-6\"\u003e\n\u003cstrong\u003eRecommended Operating Pressure\u003c\/strong\u003e\u003cbr\u003e30-60 PSI (2.1 - 4.1 Bar)\u003c\/li\u003e\n\u003cli class=\"list-group-item col-sm-6\"\u003e\n\u003cstrong\u003eInlet\u003c\/strong\u003e\u003cbr\u003e15 mm (1\/2\") \u003c\/li\u003e\n\u003cli class=\"list-group-item col-sm-6\"\u003e\n\u003cstrong\u003ePop-Up Height\u003c\/strong\u003e\u003cbr\u003e\u003cspan data-mce-fragment=\"1\"\u003e95 mm (\u003c\/span\u003e3 3\/4\")\u003c\/li\u003e\n\u003cli class=\"list-group-item col-sm-6\"\u003e\n\u003cstrong\u003eBody Height\u003c\/strong\u003e\u003cbr\u003e150 mm (6\") \u003c\/li\u003e\n\u003cli class=\"list-group-item col-sm-6\"\u003e\n\u003cstrong\u003eCap Diameter\u003c\/strong\u003e\u003cbr\u003e57 mm (2 1\/4\")\u003c\/li\u003e\n\u003cli class=\"list-group-item col-sm-6\"\u003e\n\u003cstrong\u003eExposed Diameter\u003c\/strong\u003e\u003cbr\u003e45 mm (1 3\/4\") \u003c\/li\u003e\n\u003c\/ul\u003e\n\u003ch5\u003eDocumentations\u003c\/h5\u003e\n\u003cp\u003e\u003ca href=\"https:\/\/cdn.shopify.com\/s\/files\/1\/0380\/8365\/7867\/files\/MINI-8_Series.pdf?v=1589852298\" target=\"_blank\"\u003e\u003cspan data-mce-fragment=\"1\"\u003e\u003cimg data-mce-fragment=\"1\" alt=\"\" src=\"https:\/\/cdn.shopify.com\/s\/files\/1\/0380\/8365\/7867\/files\/PDF_logo_32x32.png?v=1589769759\" data-mce-src=\"https:\/\/cdn.shopify.com\/s\/files\/1\/0380\/8365\/7867\/files\/PDF_logo_32x32.png?v=1589769759\"\u003e Toro Mini 8 Rotor Cell Sheet Metric\u003c\/span\u003e\u003c\/a\u003e \u003c\/p\u003e\n\u003cp\u003e\u003ca href=\"https:\/\/cdn2.toro.com\/en\/-\/media\/Files\/Toro\/professional-contractor\/Rotors\/Mini-8-Series\/Mini-8-Uusers-Guide.ashx\" data-mce-href=\"https:\/\/cdn2.toro.com\/en\/-\/media\/Files\/Toro\/professional-contractor\/Rotors\/Mini-8-Series\/Mini-8-Uusers-Guide.ashx\"\u003e\u003cspan data-mce-fragment=\"1\"\u003e\u003cimg data-mce-fragment=\"1\" src=\"https:\/\/cdn.shopify.com\/s\/files\/1\/0380\/8365\/7867\/files\/PDF_logo_32x32.png?v=1589769759\" alt=\"\" data-mce-src=\"https:\/\/cdn.shopify.com\/s\/files\/1\/0380\/8365\/7867\/files\/PDF_logo_32x32.png?v=1589769759\"\u003e Toro Mini 8 Series User's Guide\u003c\/span\u003e\u003cspan\u003e \u003c\/span\u003e\u003c\/a\u003e\u003c\/p\u003e\n\u003cp\u003e\u003ca href=\"https:\/\/cdn2.toro.com\/en\/-\/media\/Files\/Toro\/professional-contractor\/Rotors\/Mini-8-Series\/Mini-8-single-stream-specs.ashx\"\u003e\u003cspan\u003e\u003cimg data-mce-fragment=\"1\" src=\"https:\/\/cdn.shopify.com\/s\/files\/1\/0380\/8365\/7867\/files\/PDF_logo_32x32.png?v=1589769759\" alt=\"\" data-mce-src=\"https:\/\/cdn.shopify.com\/s\/files\/1\/0380\/8365\/7867\/files\/PDF_logo_32x32.png?v=1589769759\"\u003e Toro Mini 8 Series Single Stream Specs \u003c\/span\u003e\u003c\/a\u003e\u003c\/p\u003e\n\u003cp\u003e\u003ca href=\"https:\/\/cdn2.toro.com\/en\/-\/media\/Files\/Toro\/professional-contractor\/Rotors\/Mini-8-Series\/Mini-8-ss-revb.ashx\" data-mce-href=\"https:\/\/cdn2.toro.com\/en\/-\/media\/Files\/Toro\/professional-contractor\/Rotors\/Mini-8-Series\/Mini-8-ss-revb.ashx\"\u003e\u003cspan\u003e\u003cimg data-mce-fragment=\"1\" src=\"https:\/\/cdn.shopify.com\/s\/files\/1\/0380\/8365\/7867\/files\/PDF_logo_32x32.png?v=1589769759\" alt=\"\" data-mce-src=\"https:\/\/cdn.shopify.com\/s\/files\/1\/0380\/8365\/7867\/files\/PDF_logo_32x32.png?v=1589769759\"\u003e Toro Mini 8 Rotor Cell Sheet Imperial\u003c\/span\u003e\u003c\/a\u003e\u003c\/p\u003e\n\u003ch5\u003eVideos\u003c\/h5\u003e\n\u003cp\u003e \u003ciframe width=\"560\" height=\"315\" src=\"https:\/\/www.youtube.com\/embed\/DAexVbVCWhs\" title=\"YouTube video player\" frameborder=\"0\" allow=\"accelerometer; autoplay; clipboard-write; encrypted-media; gyroscope; picture-in-picture\" allowfullscreen=\"\"\u003e\u003c\/iframe\u003e\u003c\/p\u003e\n\u003ch5\u003eCompatible with\u003c\/h5\u003e\n\u003cp\u003e\u003cstrong\u003eSwing Joints \u003cbr\u003e\u003c\/strong\u003eSwing joints are flexible pipe fittings used to attach sprinklers or rotors to an irrigation system. \u003cstrong\u003eThe Mini 8 is only combatable with 15mm threaded Swing Joints.\u003cbr\u003e\u003c\/strong\u003e\u003c\/p\u003e\n\u003cul\u003e\n\u003cli\u003e\n\u003ca href=\"https:\/\/shop.irrigation.co.nz\/collections\/swing-joints-accessories?_pos=1\u0026amp;_psq=swing\u0026amp;_ss=e\u0026amp;_v=1.0\" title=\"Toro 570 Check Valve\"\u003e\u003cstrong\u003eClick here\u003c\/strong\u003e\u003c\/a\u003e\u003cspan\u003e \u003c\/span\u003eto shop for Swing Joints\u003c\/li\u003e\n\u003c\/ul\u003e\n\u003cp\u003e\u003cstrong\u003eMini 8 Adjustment tool\u003c\/strong\u003e\u003cbr\u003eUsed to make changes to your Mini 8 sprinkler\u003cbr\u003e\u003c\/p\u003e\n\u003cul\u003e\n\u003cli\u003e\n\u003ca title=\"Toro 570 Check Valve\" href=\"https:\/\/shop.irrigation.co.nz\/products\/mini-8-adjustment-tool\"\u003e \u003cstrong\u003eClick here\u003c\/strong\u003e\u003c\/a\u003e\u003cspan\u003e \u003c\/span\u003eto shop for the Mini 8 adjustment tool.\u003c\/li\u003e\n\u003c\/ul\u003e\n\u003cp\u003e\u003cstrong\u003eMini 8 Check Valve \u003cbr\u003e\u003c\/strong\u003eThe Mini 8 check valve prevents irrigation lines from being emptied after the sprinkler system has stopped running.\u003cstrong\u003e\u003cbr\u003e\u003c\/strong\u003e\u003c\/p\u003e\n\u003cul\u003e\n\u003cli\u003e\n\u003ca href=\"https:\/\/7lwqjt0nizekq2ax-38083657867.shopifypreview.com\/products_preview?preview_key=fdb839bb7c68e7c4fa3b9610ad8757fe\" title=\"Toro 570 Check Valve\"\u003e\u003cstrong\u003eClick here\u003c\/strong\u003e\u003c\/a\u003e\u003cspan\u003e \u003c\/span\u003eto shop for the Mini 8 Check Valve.\u003c\/li\u003e\n\u003c\/ul\u003e\n\u003cp\u003e\u003cspan\u003e\u003cstrong\u003eSpare Nozzle Rack for Mini 8\u003c\/strong\u003e\u003cbr\u003e\u003c\/span\u003eIncase of losses or breakages we also offer \u003cspan data-mce-fragment=\"1\"\u003eSpare Nozzle Rack for Mini 8\u003c\/span\u003e\u003c\/p\u003e\n\u003cul\u003e\n\u003cli\u003e\n\u003ca title=\"Toro 570 Check Valve\" href=\"https:\/\/7lwqjt0nizekq2ax-38083657867.shopifypreview.com\/products_preview?preview_key=c704870c1065a4a9a53b7c00e3610209\"\u003e\u003cstrong\u003eClick here\u003c\/strong\u003e\u003c\/a\u003e\u003cspan\u003e \u003c\/span\u003eto shop for the a \u003cspan data-mce-fragment=\"1\"\u003eSpare Nozzle Rack for Mini 8\u003c\/span\u003e\n\u003c\/li\u003e\n\u003c\/ul\u003e\n\u003ch5\u003eReviews\u003c\/h5\u003e\n\u003cp\u003e \u003c\/p\u003e\n\u003c!-- \/TABS --\u003e"}
Toro Mini 8 Rotor Sprinkler
Toro Mini 8 Rotor Sprinkler

Top Arc Indication
Ensures easy adjustments from 40° to 360° with visual feedback of arc change by reading the scale.



Five Interchangeable Nozzles
To cover varying flow and radius requirements (comes pre-installed with a 1.5 nozzle).



Stainless Steel Radius Adjustment Screw
Allows up to 25% reduction.



Pressure Activated Seal
Minimizes flow-by during pop-up and keeps debris away from stem during retraction.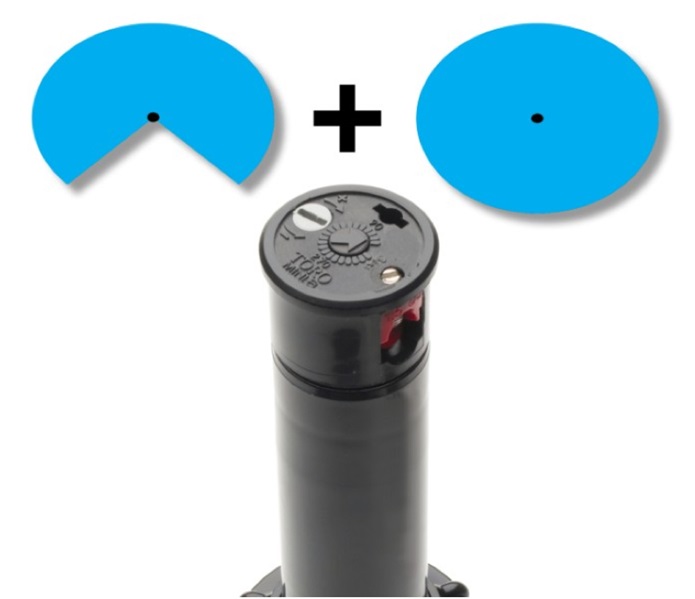 Part And Full Circle In One
Offers convenience and reduces inventory requirements.
Radius


6.1 - 10.7 m (

20'-35') 
Flow
3 - 12.9 LPM (0.8-3.40 GPM) 
Arc
Full Circle; Part-circle Adjustable; Part/Full circle in One
Recommended Operating Pressure
30-60 PSI (2.1 - 4.1 Bar)
Inlet
15 mm (1/2") 
Pop-Up Height


95 mm (

3 3/4")
Body Height
150 mm (6") 
Cap Diameter
57 mm (2 1/4")
Exposed Diameter
45 mm (1 3/4") 
Swing Joints 
Swing joints are flexible pipe fittings used to attach sprinklers or rotors to an irrigation system. The Mini 8 is only combatable with 15mm threaded Swing Joints.

Mini 8 Adjustment tool
Used to make changes to your Mini 8 sprinkler

Mini 8 Check Valve 
The Mini 8 check valve prevents irrigation lines from being emptied after the sprinkler system has stopped running.

Spare Nozzle Rack for Mini 8
Incase of losses or breakages we also offer Spare Nozzle Rack for Mini 8